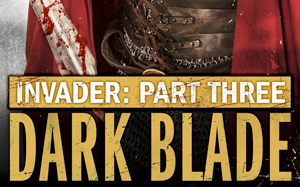 Have you been reading the INVADER ebook novella series? Parts one and two, Death Beach and Blood Enemy, have already been unleashed, and it's not long now until part three, Dark Blade, is available. You can pre-order it now ahead of publication on the 18th December, so that it will land on your ereader as soon as it's released.
In spite of their defeat in battle, Britannia's natives continue to resist their Roman conquerors. All attempts to impose Roman rule have failed. Now a new king has been installed among the Durotriges to bring them into line – and Optio Horatius Figulus of the Second Legion is charged with protecting him. But a Druid assassin is rumoured to be plotting to kill the king before he can establish his rule.
Then the king begins a devastating campaign of reprisals against his political rivals. Whole families are murdered, weapons are confiscated and the old gods are denounced. As native discontent threatens to spill over into open rebellion, Figulus finds his unswerving allegiance to Rome faltering. Then the king decides to confront his opponents…just as the assassin is poised to strike.
Here's the fantastic cover for Dark Blade…
If you're yet to dive in to this action-packed novella series, then Part One: Death Beach and Part Two: Blood Enemy are also out now!