Invader part 4, IMPERIAL AGENT, out now!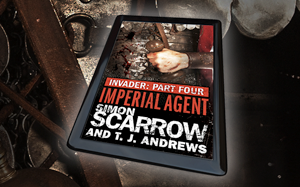 If you've been hooked on Invader, the ebook novella series from Simon and T.J. Andrews, then we have good news – part four is out today! That's right, you can now download Imperial Agent.
 In the bitter depths of winter, Rome's plan to install a friendly king in the most hostile area of Britannia is under threat. There are rumours of a conspiracy to unseat the king and Horatius Figulus, the junior officer charged with protecting him, knows the situation is dangerously unstable. But, when the king announces a plan to tax the natives to fund a lavish palace, Figulus is powerless to prevent a violent rebellion. As protests against Roman rule spread, a secretive Druid sect forces out the legion and the king is taken hostage.
Now Figulus must infiltrate the enemy ranks, release the king and kill the elusive leader of the Druids before the entire region descends into bloody chaos…
The ebook exclusive novella Imperial Agent is available to download now! Click here to find out more
Part 1 – Death Beach, Part 2 – Blood Enemy and Part 3 – Dark Blade are all also available now!