Download a free HEARTS OF STONE chapter sampler!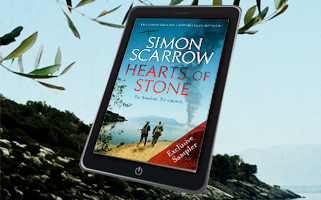 Can't wait for Hearts of Stone to be published on the 4th June? Then we've got a treat for you: you can now download a FREE ebook sampler of Simon's new World War II novel, which includes the first five chapters and exclusive interview with Simon.
As well as giving you a taste of this action packed story of the Greek Resistance, you can also discover Simon's inspiration for writing the novel, how he came up with the characters, and the challenges of writing and researching this period.
Download the free Hearts of Stone chapter sampler HERE
And if that leaves you wanting more, pre-order your copy of Hearts of Stone now, from Amazon or Waterstones