Gallery: the Cato and Macro game!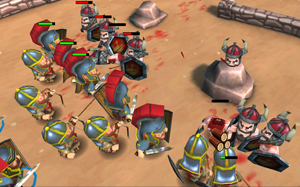 It's the game everyone is talking about!
Cato and Macro: The Game has made quite a splash since launching on Google Play recently, and the amazing reviews are flooding in! Have you downloaded the game and played it yet? If not, these images should whet your appetite. Remember, the game is launching on iOS very soon, so keep checking back for updates – it won't be long until you too can take control of Simon's legendary characters and lead them to glory!
Download the Cato and Macro game from Google Play
  Train troops, build barracks and unlock exclusive messages from Simon and book content as you slash, blast and fire your way to victory. And don't forget to unleash the famous flaming pig!