New Simon Scarrow game out in 2014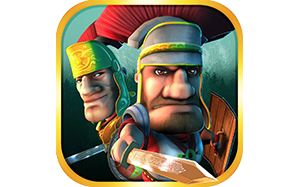 A mobile game based on Sunday Times bestselling historical fiction author Simon Scarrow's Macro & Cato Roman novel series is hitting app stores this Autumn. 'Are you not entertained?!' etc…
Simon Scarrow is working alongside Headline and games developer Amuzo to create the as-yet-untitled game, which will allow players to fight alongside Macro and Cato across the battlefields of Europe, North Africa and the Middle East.
Simon Scarrow is well known for his MACRO & CATO series of novels that follows the fortunes of two Roman soldiers as they battle their way across the Roman Empire. He has also written several standalone novels, and more recently co-created the innovative serialised e-novella series, ARENA, with T.J. Andrews. Now, with over 3 million book sales behind him, Simon is again challenging convention with the development of a mobile game based upon his books.
'I'm delighted to be closely involved in the development of the Macro and Cato game,' said Mr Scarrow. 'For the first time readers and game-players are going to have the chance to take on the role of the two best-selling characters and make tactical decisions that decide the fate of Rome!'
The main aim of the game is to unlock and collect story extracts from existing novels as well as the new Macro and Cato novel Brothers in Blood (published 23rd October 2014). Some of the extracts will be exclusive to the game, offering bonus material to delight both existing fans and newcomers alike. Additionally, the game will include a leaderboard-based competition to give players the opportunity to win signed book and merchandise.
The game will be a unique opportunity for Scarrow fans to relive the experiences of the novels they love, while newcomers can discover the world of Cato & Macro for the first time in an exciting, fast-paced adventure. It will be easy to understand and quick to master for a wide audience, while providing a progressive level of difficulty. A quick, snack-type play pattern is the goal, to enable players to come back frequently.
The game will be available to download on all major mobile and tablet platforms (Web, iOS, Google Play, Windows 8 – Metro) and free to download, with an option to pay in order to skip time and download additional content that extends the gameplay.
Amuzo is a multi-award winning team of game developers, with experience spanning mobile, web and console production. Their titles have accounted for over 500 million online play sessions and have been #1 on iOS in 120 countries.
Mike Hawkyard, CEO at Amuzo, said 'we're really excited about the prospect of being able to bring Macro and Cato to life.'
Well, Mike – so are we. So are we.
The Simon Scarrow Game is out on mobiles and tablets in autumn 2014