Gallery: Centurion Macro's classic quotes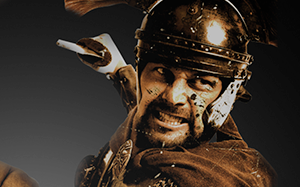 Everyone knows that Centurion Macro isn't the most sensitive of souls. In fact, he's at his happiest when he's out on the battlefield giving his enemies a good kicking and then celebrating with a barrel or two of wine. At almost 300 pounds, stocky and powerful and always up for a brawl, he doesn't tolerate fools gladly – or any enemies of Rome for that matter.
Over the course of their thirteen adventures together, Cato and Macro have fought valiantly against a whole host of enemies, and you can always rely on Macro for a witty remark or cutting insult.
This gallery shows just some of his classic quotes from Praetorian…
[soliloquy id="302"]
[soliloquy slug="classic-macro-isms"]
For more classic Macro-isms, visit Simon's Facebook page