Cover reveal: HEARTS OF STONE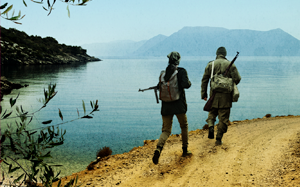 In June this year, Simon will release Hearts of Stone, a dramatic and atmospheric novel of war, betrayal and friendship against the backdrop of a beautiful Greek island during World War II.
1938: A perfect summer on the island of Lefkas for three young people untroubled by the simmering politics of Europe. Peter, visiting from Germany while his father works on an archaeological dig, has begun a friendship with locals Andreas and Eleni. As Peter leaves, they swear to meet again.
1942: War has come to paradise. Andreas and Eleni have joined the partisan forces resisting the invasion. Peter has returned to the island – as a dangerously well-informed enemy intelligence officer. As increasingly vicious conflict ensues, a friendship formed in peace between three teenagers will turn into a desperate battle between enemies sworn to sacrifice everything for the countries that they love.
In Hearts of Stone, Simon brings to vivid life the drama, horror and intensity of twentieth-century warfare, brilliantly displaying the talent that makes his novels of historic military campaigns, courageous fighters and camaraderie regular features of the Sunday Times bestseller list.
Hearts of Stone will be published on 4th June 2015 in hardback and ebook, and we're delighted to be able to reveal the cover…
And don't forget, the paperback edition of Brothers in Blood is published on March 26th. Don't miss out on the latest Cato and Macro adventure!