Meet the characters of BLACKOUT: part 1
BLACKOUT has a very interesting cast of characters, some you might recognise from the history books…
Gruppenführer Heydrich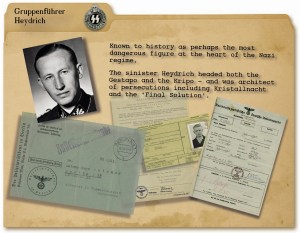 Know to history as perhaps the most dangerous figure at the heart of the Nazi regime, the sinister Heydrich headed both the Gestapo and the Kripo – and was architect of persecutions including Kristallnacht and the 'Final Solution'.
Oberführer 'Gestapo' Müller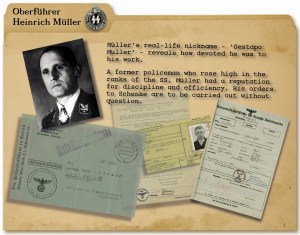 Müller's real-life nickname shows how devoted he was to his work. A former policeman who rose high in the ranks of the SS, Müller had a reputation for discipline and efficiency. His orders to Schenke are to be carried out without question.
Admiral Canaris
The real-life Chief of German Military Intelligence from 1935, Canaris oversaw all clandestine war work in Berlin. Though he might have seemed sociable, he was an expert in knowing more than he let on – and, like all good liars, was not a man you'd want to cross.
THE STUNNING SECOND WORLD WAR THRILLER FROM THE CELEBRATED SUNDAY TIMES BESTSELLING AUTHOR SIMON SCARROW

The Times bestseller

'Taut and chilling - I was completely gripped' Anthony Horowitz

'A wonderfully compelling thriller, reeking of authenticity, and a terrific depiction of the human world within the chilling world of the Third Reich' Peter James

'Pivotal moments in history; utterly authentic characters; a gripping plot. The perfect way to bring history alive' Damien Lewis

Berlin, December 1939

As Germany goes to war, the Nazis tighten their terrifying grip. Paranoia in the capital is intensified by a rigidly enforced blackout that plunges the city into oppressive darkness every night, as the bleak winter sun sets.

When a young woman is found brutally murdered, Criminal Inspector Horst Schenke is under immense pressure to solve the case, swiftly. Treated with suspicion by his superiors for his failure to join the Nazi Party, Schenke walks a perilous line - for disloyalty is a death sentence.

The discovery of a second victim confirms Schenke's worst fears. He must uncover the truth before evil strikes again.

As the investigation takes him closer to the sinister heart of the regime, Schenke realises there is danger everywhere - and the warring factions of the Reich can be as deadly as a killer stalking the streets . . .

'Scarrow has created a character who's a more than worthy successor to Philip Kerr's Bernie Gunther. Blackout is a gripping, terrifying read . . . historical crime fiction at its finest' David Young